If you want to do a research project in Singapore, you should read this article. The Singapore International Pre-Graduate Award is presently accepting applications.

We will go through the details of this scholarship programme, its benefits, and the application process step by step in this article.
International students can apply for the Singapore International Pre-Graduate Award (SIPGA) 2022-2023, which is a fully funded scholarship. This scholarship is available at A*STAR for undergraduate and master's masters research projects. This scholarship will grant a $1,500 monthly stipend.
Latest scholarships:
The Singapore International Pre-Graduate Award (SIPGA) supports short-term research attachments for top international students at ASTAR, providing you with a once-in-a-lifetime opportunity to immerse yourself in the vibrant scientific environment of ASTAR Research Institutes and Consortia and work with distinguished and world-renowned researchers.
ASTAR provides scholarships to talented students who have a strong interest in science and research and want to pursue their undergraduate studies at world-class universities. They are dedicated to giving them opportunity to obtain first-hand research experience at ASTAR and universities, as well as to learn from the brightest scientific minds who are dedicated to mentoring young developing scientists.

More About A*STAR
The A*STAR Talent Search (ATS) is a Singapore-based research-based science competition for high school students aged 15 to 21. Previously, it was known as the National Science Talent Search. The ATS is a national competition that recognises and awards students that excel in science and technology. This competition allows students to show off their outstanding creations while also encouraging them to pursue careers in science and technology.
Since 2006, the Agency for Science, Technology and Research (ASTAR) and Science Centre Singapore (SCS) have been in charge of the ATS. Participants must compete in the Singapore Science and Engineering Fair (SSEF), with the fair's winners moving on to the ATS short-listing phase. A Nobel Laureate serves as the Chief Judge, while the panel of judges includes notable scientists from local and international universities, as well as ASTAR research centres. Winners of the ATS must demonstrate resourcefulness, understanding of scientific principles, and enthusiasm for scientific study.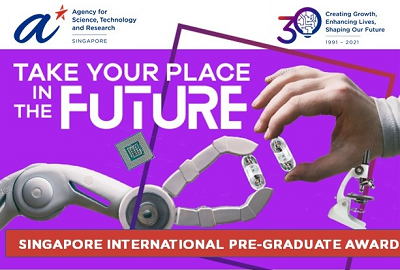 The winner of the First Prize will receive S$5000 in addition to a sponsored abroad conference.
Top universities around the world have accepted ATS winners and finalists (the top 8 students), including National University of Singapore, Harvard University, Princeton University, Yale University, Stanford University, Massachusetts Institute of Technology, and California Institute of Technology in the United States, and the University of Cambridge, University of Oxford, and Imperial College London in the United Kingdom.
Scholarship Summary
Level of Study: Undergraduate, Masters
Institution(s): A*STAR
Study in: Singapore
Opportunity Focus Areas: Click here to find all the available programs.
Program Period: 2 to 6 months
Deadline: July 15, 2022 / November 15, 2022
Scholarship Coverage
Singapore International Pre-Graduate Award (SIPGA) will provide:
Monthly stipend of $1,500.
Eligibility Criteria for Singapore International Pre-Graduate Award
To qualify for Singapore International Pre-Graduate Award (SIPGA), candidate must fulfill all of the following requirements below:
Required Language: English.
Eligible Countries: All world countries.
International students in Biomedical Sciences and Physical Science and Engineering related disciplines who are undergraduate students in their third or fourth year, or Master students.
For Foreigners studying in Overseas Educational Institutes, the attachment must be part of your school's requirements (i.e. contributes to grades or graduation requirements) for student to be eligible for a Training Employment Pass (TEP).
How to Apply for Singapore International Pre-Graduate Award (SIPGA)?
Please follow the following application instructions to Singapore International Pre-Graduate Award (SIPGA):
Complete the application form here.
Provide the following documents:

CV. Ensure your CV is updated with a valid email address.
Educational transcripts/certificates.
Note: You may be required to provide a Letter of Support from your school at a later stage. so you should request for one from your school while your application is being processed.

Fill in your choice of research institute and the research supervisor(s) that you are interested to work under (optional). Submit your application.
For more information about the A*STAR Research Institutes (RI) click here.
Apply Now
To know more about Singapore International Pre-Graduate Award (SIPGA), please visit Official Website.