International students are welcome to apply for the Fatima Al-Fihri Open University Internship. The internship will last anywhere from six to twelve weeks.
The internship will allow you to work from home. Training during the programme, an internship certificate at the conclusion of the programme, and assistance in applying for scholarships or participating in other programmes and activities.
Fatima Al-Fihri Open University is a non-profit international educational institution that was founded online in September of 2016. It has grown at an astounding rate since then. They are currently a group of transnational adolescents working in various nations around the world, all of whom are passionate about establishing an inclusive learning atmosphere that elevates their pupils and gives purpose to their educational experiences.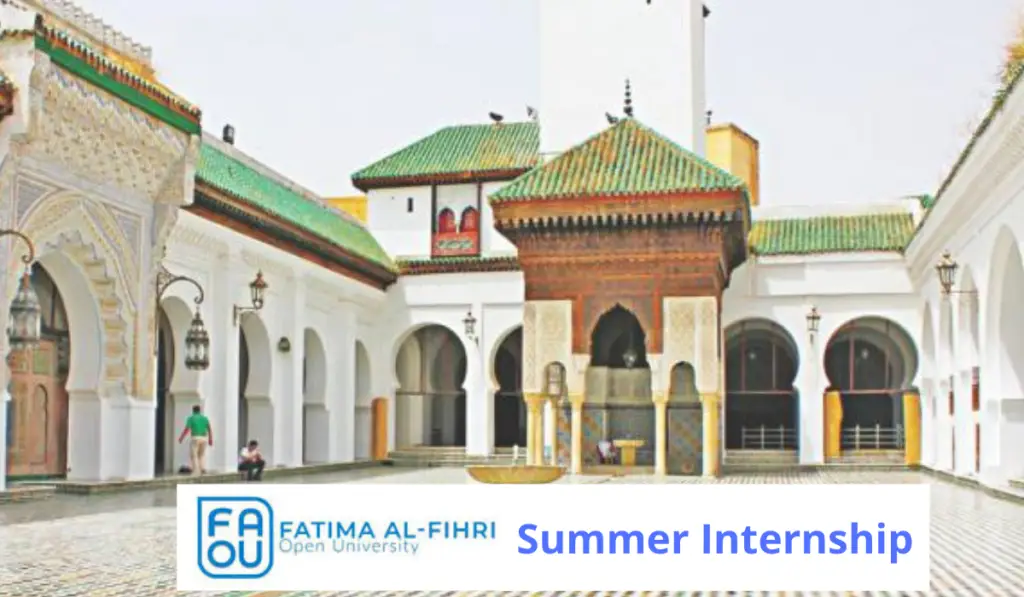 As a result, Fatima Al-Fihri Open University provides open and accessible tools for persons worldwide who have acquired a high school diploma, regardless of age, country, educational, or cultural background, to pursue university-level education.
Related Internships:
Their tagline "A New Generation of Education" refers to their goal of providing a flexible education system that can be accessed by anybody interested in completing their studies at the university level using the Internet and modern technology available to us. They have taken the first steps and founded "Fatima AL-Fihri Open University," an online university with diverse academic programmes, available from anywhere and to anybody without pre-conditions or entrance tests, because they believe that open and free education is a right for everyone. It's a university that provides you with free higher education and self-paced study alternatives.
Fatima bint Muhammad Al-Fihriyya was an Arab woman who founded the al-Qarawiyyin mosque in Fez, Morocco, in 859 AD. "Umm al-Banayn" is another name for her. Around 880 AD, Al-Fihri died. In 1963, the Al-Qarawiyyin mosque established an educational institution, which became known as the University of al-Qarawiyyin. Ibn Abi Zar' (d. between 1310 and 1320) recounts her biography in The Garden of Pages (Rawd al-Qirtas) as the founder of the Qarawiyyin Mosque. Her storey has been difficult to verify as she was first reported many centuries after her death, and some modern historians deny she actually existed.
Internship Summary
Level of Study: Internship
Location: Morocco (online)
Institution(s): Fatima Al-Fihri Open University
Deadline: Varies as per new opportunities
Internship Focused Areas:

Human Resources.
Communication.
Partnership.
Marketing.
Social Media.
Pedagogical Affairs.
IT.
Platform.
Photo/ Video Design and Edit.

Internship Period:

Depends upon Internship type
Internship Benefits
Fatima Al-Fihri Open University Internship covers:
No program fees;
Flexible working time;
Certificate of completion at the end of the program;
Dynamic global work environment with FAOU senior team's support;
Opportunity to build a diverse network with active professionals from all over the world.
Boost your confidence and develop soft skills like management and communication skill, leadership skill.
Familiarize yourself with a broad range of conceptions in social media.
Eligibility Criteria for Fatima Al-Fihri Open University Internship
Applicants must fulfill the following criteria for Fatima Al-Fihri Open University Internship:
Required Languages: Proficiency in English language.
Eligible Countries: All world countries
Ability to speak and write in English, knowledge of the official language of the residing country is obligatory;
Stable Access to internet and computer proficiency;
Previous work in the non-profit sector is an asset, especially educational organizations;
Open minded and willingness to work in diverse multicultural, multi-ethnic environment and be able to maintain effective working relations with people of different national and cultural backgrounds;
Actively participating in his/her local community;
Desire to learn and improve professionally.
How to Apply for Fatima Al-Fihri Open University Internship?
Please follow the following application instructions to win Fatima Al-Fihri Open University Internship:
Fill the form from here.
You will have to write :

Brief Biography (Max 300 words)
Cover Letter (Max 700 words)
Notes:
Apply Now
To know more about Fatima Al-Fihri Open University Internship, please visit official website: