In Malaysia, continue your studies. There's good news! International students can apply for a University of Nottingham Scholarship right now.
In this article, we will go over the University of Nottingham Scholarship, its benefits, and the application process step by step.
International students can apply for the University of Nottingham Scholarship 2022, which is a fully financed scholarship. This scholarship is available for master's and doctoral degree programs. The scholarship covers the entire cost of tuition.
The Developing Solutions Scholarship Fund will seek out students who have the capacity to make a significant difference in their native nations' development and prosperity.
Students from underdeveloped and third-world countries who enroll in taught Masters programs in science, technology, and education at the Malaysia Campus will be eligible for ten awards of 100% tuition price scholarships.
University of Nottingham Scholarship Summary
Level of Study: Masters
Institution(s): University of Nottingham (Malaysia Campus)
Study in: Malaysia
Deadline: October 18, 2022 (December intake) / August 02, 2022 (September Intake)
Program Period: From two to three years.
Courses Offered:
MSc Chemical Engineering.
MSc Civil Engineering.
MSc Computer Science.
MSc Mechanical Engineering.
MSc Electronic Communication & Computer Engineering.
MSc Crop Biotechnology.
MA Educational Leadership & Management.
MA Special Needs.
MA TESOL.
MSc International Development Management.
MA International Relations.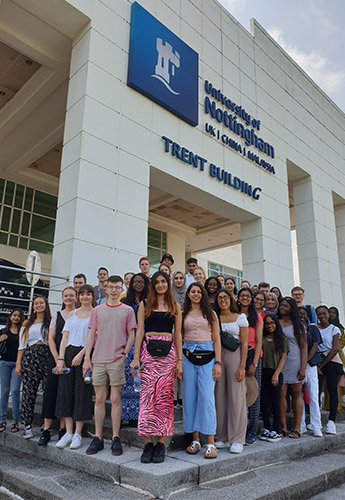 University of Nottingham Scholarship Coverage
University of Nottingham Scholarship provides the recipient with below benefits:
100% tuition fee scholarships are available for students from the developing and third world countries.
Eligibility Criteria for University of Nottingham Scholarship
To qualify for University of Nottingham Scholarship, candidate must fulfill all of the following requirements below:
Required Language: English.
Eligible Countries: All world countries.
Be holding an unconditional offer letter and accepted the offer by paying RM 2,000 for full time Masters degree program at University of Nottingham Malaysia intakes. Copy of unconditional offer letter and acceptance form must be attached together with the application.
Be classified as an 'overseas' student for fee purposes.
Have at least 1 full year working experience after completion of undergraduate program. Fresh graduates will not be considered.
Must sufficiently enable to support cost of living throughout the duration of studies.
Complete our scholarship application form online. Please take note only completed form with all supporting documents will be considered.
submission of application will be open from March 2022.
application for September 2022 intake is open from 1 March 2022 and closed by 2 August 2022. Successful applicants will be notified by 23 August 2022.
application for December 2021 intake is open from 1 June 2022 and closed by 18 October 2022. Successful applicants will be notified by 8 November 2022.
current students and graduates of UNMC will not be considered for this scholarship as to give new students an opportunity.
only complete applications and meet the above requirements will be entertained.
English language requirements:
IELTS: 6.0 (with no less than 5.5 in each element)
TOEFL (iBT): 79 (minimum 17 in Writing and Listening, 18 in Reading, 20 in Speaking)
PTE (Academic): 55 (with no less than 51 in each element)
MUET: Band 3
IELTS, TOEFL and PTE (Academic) test results must be less than two years old and all IELTS must be the academic version of the test. MUET results are valid for five years from the date of the release of results.
How to Apply for University of Nottingham Scholarship?
Please follow the following application instructions to apply for this scholarship.
Applicants for competitive university scholarships must first have applied for and obtained an offer to study at the university Here and you can know how to apply to the university from Here.
Complete the online Scholarship Application Form online.
Return your form to this address (DevelopingSolutionMalaysia@nottingham.edu.my)
Documents to attach:

Copy of Passport.
Copy of testimonials and records of participation in extracurricular activities.
Copy of academic transcripts.
Copy of parents (both) incomes.
Copy of bank statement of account.
Copy of UNM unconditional offer letter& payment of acceptance fee.
Portfolio of your achievement.
Apply Now
To know more about University of Nottingham Scholarship, please visit Official Website.