For the academic year 2022-2023, Rutgers Business School is offering international student scholarships in the United States.
Each year, the scholarship is worth a maximum of $10,000. This stipend is only available to international students at Rutgers Business School for their undergraduate education. Applicants must apply as soon as possible in order to be evaluated.
Rutgers Business School is a graduate and undergraduate business school on the Rutgers University Newark and New Brunswick campuses. One of its goals is to assist professors and PhD students with their research and teaching in areas that are critical to the industry.
Rutgers Business School collaborates with the industry to develop new programs of study and training for a new generation of industry leaders who value both the business and creative aspects of this dynamic industry, preparing students for internships and full-time employment opportunities in the industry.
More About Rutgers Business School
Rutgers Business School—Newark and New Brunswick is a graduate and undergraduate business school on the Rutgers University Newark and New Brunswick campuses. It was established in 1929. Before becoming Rutgers Business School, it was known by various previous names.
RBS opened a new location in downtown Newark's One Washington Park office complex in 2009, which houses the full-time and executive MBA programs, as well as the MQF and Newark undergraduate programs. 1 Washington Park is conveniently placed near roads and public transit, including Newark Broad Street Station, which serves the New Jersey Transit Morris and Essex and Montclair-Boonton Lines, as well as the Newark Light Rail, which connects to Newark Penn Station. The school is also close to the Washington Park light rail stop.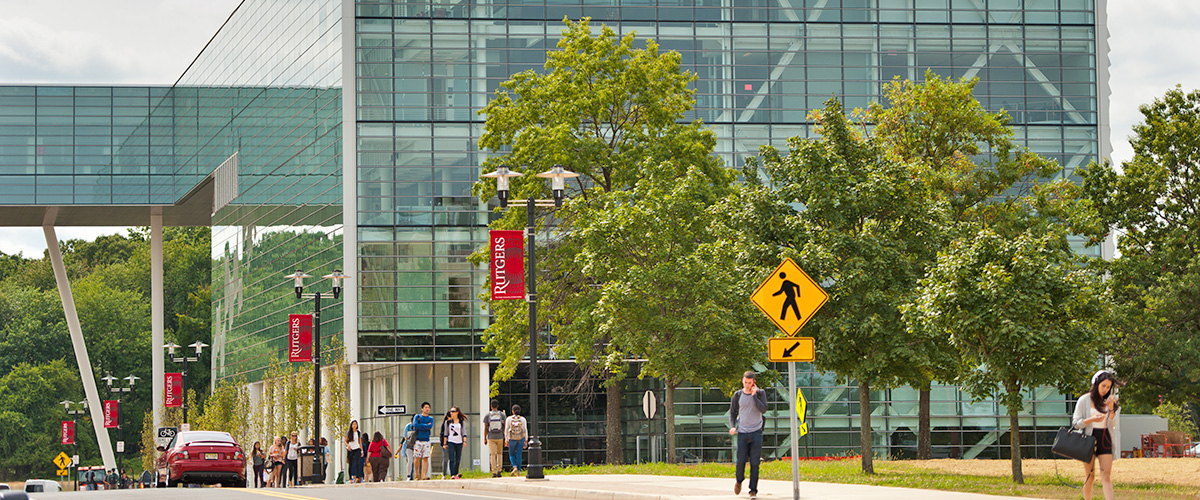 Classrooms, lecture halls, conference rooms, student and faculty lounges, offices, and a University Police substation are among the Rutgers amenities in One Washington Park. Lecture rooms, a trading floor, student lounges and study spaces, a rooftop garden, and the Bove Auditorium are all part of the new three-story RBS entrance atrium. The university owns One Park Bistro, which is operated by the university's contracted Aramark food service; however, it is open to all tenants with a building ID. The Rutgers-Newark campus expanded around Washington Park in 2011, with the former American Insurance Company Building being converted into graduate student housing.
On the New Brunswick/Livingston Campus, RBS broke ground on a new school facility in 2011. The undergraduate program in New Brunswick is housed in this new building, which opened in September 2013. RBS previously shared the Janice H. Levin Building and Beck Hall on the Livingston Campus with the School of Labor and Management Relations and the School of Arts and Sciences.
Morristown Plaza in Morristown, New Jersey; Basking Ridge Country Club in Basking Ridge; Washington Street in Jersey City; and Robinson Road in Singapore are all RBS locations. Beijing and Shanghai had previously offered MBA programs.
Application Deadline: Applications must submit their applications by the regular decision deadline, i.e., February 15, 2022
Rutgers Business School Scholarship Description
University or Organization: Rutgers Business School
Department: NA
Course Level: Undergraduate
Award: $10,000
Number of Awards: NA
Access Mode: Online
Nationality: International
The award can be taken in the USA.
Eligibility For Rutgers Business School Scholarship
Eligible Countries: All foreign national students can apply.
Eligible Course or Subjects: Undergraduate programs offered at Rutgers can be applied for.
Eligibility Criteria: To be eligible, applicants must meet all the following criteria:
The applicants must be on valid non-immigrant visas.
How to Apply
How to Apply: Students must create a Rutgers CommunityID account and complete their application. All international applicants will be considered.
Supporting Documents: The students are required to present the following documents to the university:
Unofficial copy of high school or secondary school transcript
One letter of recommendation from a teacher or college counselor
Personal Essay
Admission Requirements: Students must meet the international applicants' requirements.
Language Requirement: The students must submit scores of the following English language proficiency tests:
IELTS: 65 to 78
TOEFL IBT: 6.0 to 6.5
Benefits
The winning applicants will be provided $2,000–$10,000 per year towards the cost of their degree studies at Rutgers.