Pursue your education and career in one of the World Bank's operating nations. There's good news! The World Bank Young Professionals Program is now accepting applications.
We will go through the details of this scholarship programme, its perks, and the application process step by step in this article.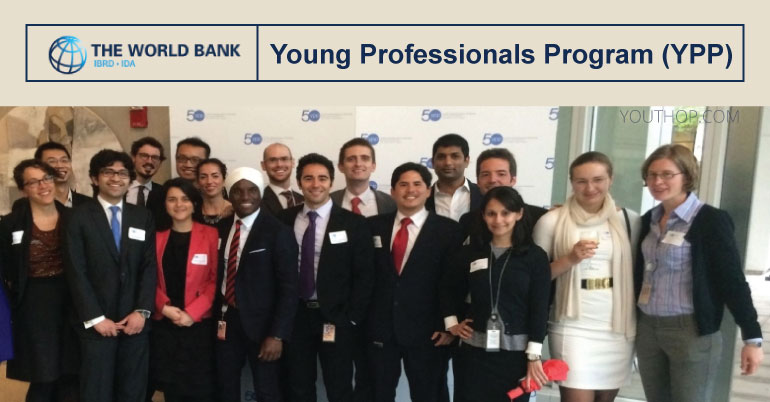 The World Bank Young Professionals Program 2022-2023 offers a unique opportunity for young professionals with a passion for international development and leadership potential to advance in exciting top technical and managerial roles at the World Bank Group.
Salary, health insurance, mobility premiums, tax breaks, and a pension plan are all included in this programme.
Related Scholarships:
The programme is designed for extremely skilled and motivated individuals with expertise in sectors such as economics, finance, education, government health, social sciences, engineering, urban planning, agriculture, and natural resources, to name a few.
Since its inception in 1963, the Young Professionals Program has hired over 1,700 people from nearly 120 countries, ranging from fresh recruits to senior leadership within the World Bank Group.
The programme was established to recruit exceptional, extremely competent, varied, experienced, and motivated young people who have demonstrated a commitment to international development by academic achievement, professional accomplishment, and leadership potential.
The programme uses an extremely selective and competitive recruitment process to bring young people into the World Bank Group's firm and culture, and then promotes their rapid integration.
The World Bank and the International Finance Corporation have consolidated their Young Professionals Programs into a single World Bank Group Young Professionals Program (WBG YPP).
Three institutions (the World Bank, the International Finance Corporation, and the Multilateral Investment Guarantee Agency) are presently taking applications for the new programme.
The World Bank Group YPP will recruit and educate future leaders to cooperate successfully across our institutions on collaborative World Bank Group solutions to development challenges, building on the rich tradition of its predecessor programmes.
Scholarship Summary
Level of Study: Fellowship / Training
Institution(s): The World Bank
Study in: Countries of operations
Deadline: Applications for the inaugural World Bank Group YPP cohort are open from June 1 – June 30 for all profiles and will reopen from August 17 – September 21 for IFC and MIGA profiles only.
Scholarship Coverage
Young Professionals Program provide the recipient with the following benefits:
Salary: As an entry-level professional in the World Bank Group, Young Professionals are offered an internationally competitive salary, based on their education and professional experience.
Health, Life, Accident, and Other Insurance Programs: Young Professionals and their families (including declared domestic partners) may choose from three comprehensive medical/dental benefit plans. The World Bank Group also provides basic life and accident insurance to all staff at no cost, and staff can elect optional life and accident insurance plans. The World Bank Group provides disability and workers' compensation coverage to staff at no cost.
Mobility Premium: A financial benefit is provided for a fixed period to cover expenses associated with being an expatriate staff member, based on family size and nationality. This benefit is not available for U.S. citizens and U.S. permanent residents.
Tax Allowance: U.S. staff receive an additional quarterly payment to cover the federal, state, and local income tax liabilities on their World Bank Group income. Expatriates and U.S. permanent residents do not incur U.S. income tax liability and are thus not eligible for this benefit.
Pension Plan: The World Bank Group sponsors a comprehensive pension plan for eligible staff. Upon separation from the World Bank Group, either a lump sum or a pension will become payable to the staff based on eligibility.
Relocation and Transportation Benefits: These benefits are only applicable to staff who are not residents of the greater Washington-Baltimore metropolitan area at the time of appointment. The World Bank will bear the cost of one-way transportation of staff and immediate dependent family from the staff member's residence. A one-time grant is included in the first paycheck to cover the cost of relocation.
Financial Assistance: The World Bank Group offers several financial assistance programs, including a two-year interest-free settling-in loan to those who relocate upon appointment.
Young Professionals Program Features
Training
A comprehensive development curriculum has been designed to ensure that YPs develop a World Bank Group mindset, gain the foundational learning needed to understand and contribute to the WBG, and build the competencies required for an entry-level position: collaboration, leadership, integrative thinking, and innovation skills while strengthening a culture of continuous learning.
The curriculum includes a blend of learning activities in a World Bank Group cohort, small groups or individually.
These activities range from on boarding activities, e-learning, cohort discussions with World Bank Group leaders and leadership training, to career development conversations and networking opportunities.
Professional Experience
Young Professionals are expected to make significant contributions toward their unit's work program while they gain a broad overview of the World Bank Group policies and work.
As part of their two-year program and in line with their units' business needs and Young Professionals' interests, they will undertake a business-driven rotational "stretch/exposure" assignment where they will gain valuable on-the-job experience.
Field Work
Young Professionals in the Operations stream are likely to join colleagues on field business trips, also called 'missions,' in developing countries. These missions allow Young Professionals to experience firsthand the challenges of global development, understand key aspects of our work, and meet World Bank Group clients.
Coaching and Mentoring
YP Buddy: Before they join, Young Professionals are assigned a YP buddy from the previous year's group, based on their professional interests and cultural background. YP buddies help new recruits to better settle in the new organization and location, as well as to understand the expectations and challenges of the program.

Technical Buddy: In their hiring units, an experienced colleague is assigned as a "go-to person" to answer technical questions in their fields.

World Bank Group Mentor: Once they have settled into their jobs, Young Professionals can be paired with a technical senior colleague who can mentor them on topics such as career options, "stretch/exposure" assignment opportunities, and help them gain insight into the organizational culture.

Youth Program Team: The Youth Program Team is dedicated to recruiting and helping integrate Young Professionals into the World Bank Group. The team coordinates activities designed to support YPs, including mentoring and guidance, helps develop career strategies, and others.
The Youth Program Team is a one-stop shop for Young Professionals looking for support and guidance.
Eligibility Criteria for World Bank Young Professionals Program
The following are the minimum requirements to be eligible for the Young Professionals Program.
Required Languages: English
Eligible Countries: The Bank's Group recruitment policy is to hire staff of the highest caliber, on as wide a geographical basis as possible, with preference to nationals of World Bank Group member countries  or  countries of operations.
Be born on or after October 1, 1989.
Complete a relevant master's degree by June 30, 2021 or PhD before September 2022. Fields of study should be related to a World Bank Business Area.
Demonstrate relevant professional experience or continued study at the doctoral level
– For World Bank placement: Demonstrate 3+ years of relevant experience, or the equivalent in continued study at the doctoral level.
– For IFC & MIGA placement: Demonstrate 4+ years of relevant experience in finance, political risk insurance and credit enhancement, project/program development, economic development and/or consulting. Certifications such as the CFA are a plus.
Full proficiency in one or more of the World Bank Group working languages — Arabic, Chinese, French, Portuguese, Russian, and Spanish — is desired, but not required.
Display a commitment and passion for international development.
Possess outstanding academic credentials.
Exhibit excellent client engagement, communication and team leadership skills.
Demonstrate knowledge of relevant sector trends.
Display a commitment and passion for international development.
Exhibit excellent client engagement and team leadership skills.
Possess outstanding academic credentials.
Have international development country experience.
How to Apply for Young Professionals Program?
Please follow the following instructions to apply for Young Professionals Program:
(1) Following documents are required:
Resume/CV.
Academic Credentials.
2 Short Essays.
Short Summary of Thesis or Dissertation (World Bank candidates, only if applicable).
3 Professional or Academic Recommendations.
(2) Before You Apply, please ensure that:
You meet the minimum requirements for eligibility for the Young Professionals Program.
You have all the information at hand including key dates, an updated Curriculum Vitae (CV), Education Certificates/Transcripts, PhD Dissertation / Master's Thesis topics (short summary), if applicable, and the Application Essay ready to be uploaded.
(3) Once you submit your application, you will not be able to make any changes/updates.
(4) Upon successful submission of your application, you will receive an email confirmation along with a YPP ID number.
(5) Applicants will be informed of their status as the process moves along.
Apply Now
To know more about Young Professionals Program, please visit Official Website.