Begin your academic study in Australia. There's good news! The Dean's Scholarship Excellence in Architecture and Urban Design is currently accepting applications.
We will go through the details of this scholarship, its perks, and the application process step by step in this article. For international students, the Dean's Scholarship Excellence in Architecture and Urban Design is a partially financed scholarship. This scholarship is available for master's studies at Australia's Swinburne University of Technology. For the duration of the course, this scholarship will cover 50% of your tuition fees.
Related Scholarships:
The courses are created with your long-term goals in mind. Swinburne University provides high-quality instruction, opportunities to engage with industry, cutting-edge facilities, and a variety of study options. Swinburne University is a vibrant, forward-thinking, and ever-changing institution. Their primary goal is to prepare you for a career. They are known around the world for their high-impact research, with eight of the STEM subjects scoring considerably above the global average.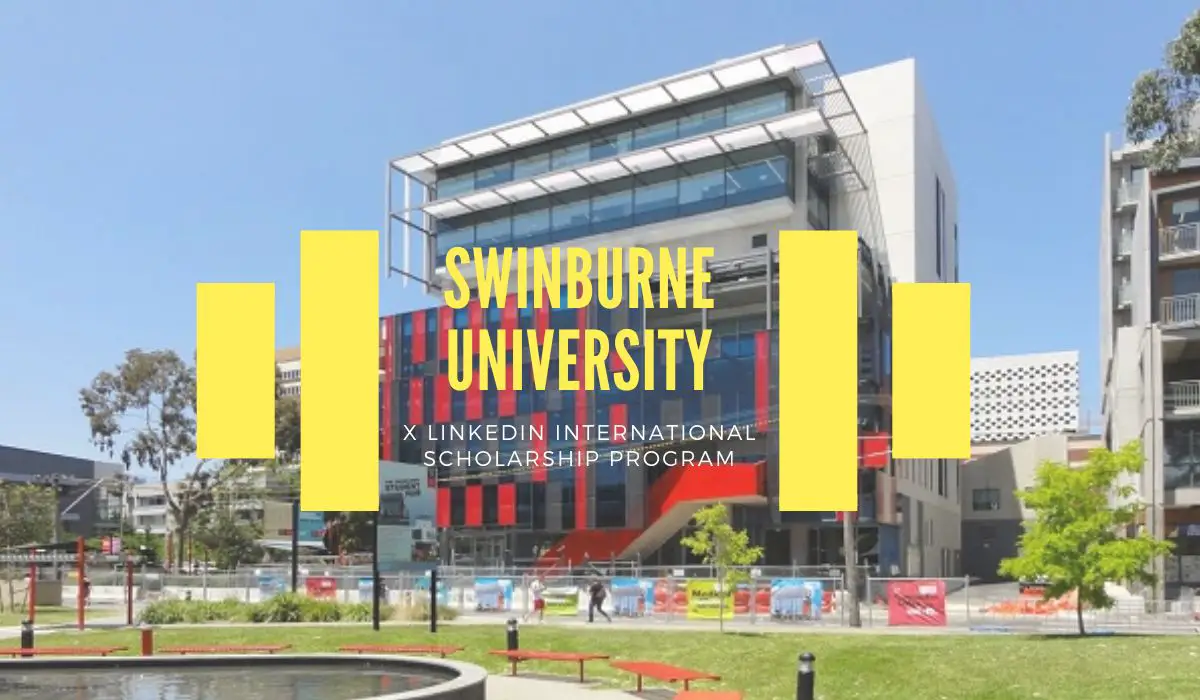 More About Swinburne University of Technology
Swinburne University of Technology is a Melbourne-based public research university. George Swinburne established the Eastern Suburbs Technical College in 1908 to serve residents in Melbourne's eastern suburbs who lacked access to higher education. Its main campus is located in Hawthorn, a Melbourne suburb 7.5 kilometres from the city's central business district.
It has campuses in the Melbourne metropolitan area at Wantirna and Croydon, in Sarawak, Malaysia, and in Sydney, in addition to its main Hawthorn campus.
It was ranked 19th in Australia and 321st globally in the QS World University Rankings for 2022.
Swinburne was ranked equal first in Victoria for the 'entire education experience' for undergraduate students in the 2020 Student Experience Survey, with an overall satisfaction rate of 80%.
The Eastern Suburbs Technical College, established in 1908 in the Melbourne suburb of Hawthorn by George Swinburne, is the forerunner of Swinburne University of Technology. The name of the college was changed from Hawthorn College to Swinburne Technical College in 1913. Swinburne Institute of Technology was eventually named after it.
The Outer Eastern University Planning Council lobbied for a new university to be established in outer eastern Melbourne in the late 1980s. After the Mornington Peninsula, the area has the second lowest university participation rate in Melbourne. Swinburne established its "Eastern Campus" in Mooroolbark in 1990, partly in response to this campaign. It was built on the grounds of the recently closed MDA Grammar School. However, due to council planning negotiations, students were not able to attend until 1992, and the campus was officially inaugurated on April 6, 1992. It was dubbed "Mooroolbark Campus" in 1993.
Many tertiary colleges were combined or split up as a result of the Dawkins reforms in Australian higher education in the early 1990s, and many were given university status.
Scholarship Summary
Level of Study: Masters
Institution(s): Swinburne University of Technology
Study in: Australia
Courses Offered:
–Master of Architecture
–Master of Architecture and Urban Design
–Master of Urban Design
Program Period: Two years
Deadline: Admission deadline
Scholarship Coverage
Dean's Scholarship Excellence in Architecture and Urban Design will provide 50% off your course fees for the duration of the course.
Eligibility Criteria
To qualify for Dean's Scholarship Excellence in Architecture and Urban Design, candidate must fulfill all of the following requirements below:
Required Language: English.
Eligible Countries: All world countries (except Australia and New Zealand)
Apply for and commence in Semester 1, 2022 or Semester 2, 2022.
Not be holding another Swinburne scholarship or reduced fee arrangement
Other entry requirements depending on your course. Please check them from here.
Applicants who are not successful will also be considered for the International Excellence Postgraduate Scholarship with up to 25% off course fees.
How to Apply for Dean's Scholarship Excellence in Architecture and Urban Design?
Please follow the following application instructions to apply for Dean's Scholarship Excellence in Architecture and Urban Design:
Check the application instructions.
Prepare the required documents:

You need to submit a 10-20 page portfolio and complete application.
You may also be required to submit documents to support your application. These may include:
certified academic documents.
certified copy of your passport.
certified copy of unit outlines and academic transcripts.
portfolio (for most design courses).
English translations of all documents, if not already in English.

Register or login to your account to apply online, by click on "apply now".
Note: You don't need to apply for these scholarships separately. Just apply for your Swinburne course of choice, and when we assess your application we will automatically assess you for a Swinburne International scholarship.
Apply Now
To know more about Dean's Scholarship Excellence in Architecture and Urban Design, please visit Official Website.