Pursue your studies in the United States. There's good news! Currently, the Hubert Humphrey Fellowship is open.
We will go through the details of this scholarship, its perks, and the application process step by step in this article. International students can apply for Hubert Humphrey Fellowships, which are fully funded non-degree programmes. Full tuition, standard room and board, textbooks, a one-time allowance for the purchase of a computer, and a Professional Development allowance are all covered by this scholarship.
International students from all around the world can apply for Hubert Humphrey Fellowships to study in the United States for the school year 2022-2023. The Humphrey Fellowship Program is for professionals who want to improve their management skills by exchanging knowledge and understanding about pressing issues in their home countries and the United States.
The Hubert H Humphrey Fellowship Program, sponsored by the US Department of State's Bureau of Educational and Cultural Affairs, is an exchange programme for young and mid-career professionals from developing countries and countries transitioning to democracy. The one-year non-degree graduate study programme focuses on leadership development and engagement with peers in the United States.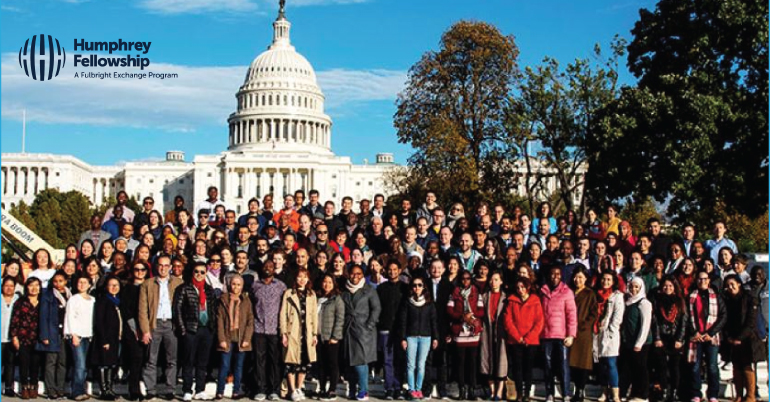 The Hubert H. Humphrey Service Program was founded in 1978 to remember the late Senator and Vice President Hubert H. Humphrey's contributions to the community. Humphrey Fellows are hosted by fourteen prominent universities in the United States, which are chosen for their proficiency in the Program's assigned fields of study as well as their resources.
Approximately 200 fellowships are awarded each year. More than 4,600 Fellows from 157 countries have participated in the programme since its inception in 1978. The U.S. Congress is the primary source of financing for this fellowship. The Humphrey Fellows are hosted by the universities listed below.
The Humphrey Program recruits young and mid-career professionals from specific countries for a year of non-degree graduate research, leadership development, and professional engagement with US colleagues.
The Humphrey Program aims to:
Develop leaders whose knowledge and skills have been informed by exposure to American values, models and ideas–leaders who will have a multiplier effect on their societies;
Establish and enhance long-lasting productive partnerships and relationships between U.S. citizens and individuals from other parts of the world;
Increase U.S. citizens' knowledge and understanding of international issues and of other cultures and societies.
Expand and improve the range of international exchange and training programs
Scholarship Summary
Courses Offered:
The eligible program fields are:
Educational Administration, Planning and Policy
Finance and Banking
Higher Education Administration
Agricultural and Rural Development
Communications/Journalism
Economic Development
HIV/AIDS Policy and Prevention
Human Resource Management
Law and Human Rights
Natural Resources, Environmental Policy, and Climate Change
Teaching of English as a Foreign Language
Technology Policy and Management
Public Health Policy and Management
Public Policy Analysis and Public Administration
Substance Abuse Education, Treatment and Prevention
Trafficking in Persons Policy and Prevention
Urban and Regional Planning
Scholarship Coverage
Hubert Humphrey Fellowships provide the recipient with the following benefits:
Payment of tuition and fees at the assigned host university.
A maintenance (living) allowance, including a one-time settling-in allowance.
Accident and sickness coverage.
Pre-academic English language training, if required.
A book allowance.
A one-time computer subsidy.
Air travel (international travel to and from the U.S. for the program and domestic travel to required program events).
A Professional Development allowance for professional activities, such as field trips, professional visits and conferences.
Eligibility Criteria Hubert Humphrey Fellowships
To be eligible for Hubert Humphrey Fellowships, applicant must have:
Please contact the U.S. Embassy, Fulbright Commission or Public Affairs Section in your country of residence to learn about the specific requirements.
How to Apply for Hubert Humphrey Fellowships?
Please follow the following applications instructions to apply for Hubert Humphrey Fellowships:
Choose the country that you are from . click
Check the website of your country and send an email.
Apply Now
To apply and know more about Hubert Humphrey Fellowships, please visit the Official Website.