Continue your studies. Australia. There's good news! The application period for the Monash Research Training Program is now open.
In this essay, we'll go through the Monash Research Training Program stipend, its perks, and the application process in depth. For international students, the Monash Research Training Program 2022-2023 is a fully funded masters and PhD scholarship. This scholarship includes a $29,500 annual living stipend and a $1,500 relocation payment.
The Australian Government offers Research Training Program (RTP) Scholarships to both domestic and international students pursuing Research Doctorate and Research Masters degrees. Monash University scholarships are very competitive and are awarded based on your academic record, research outputs, and past research experience.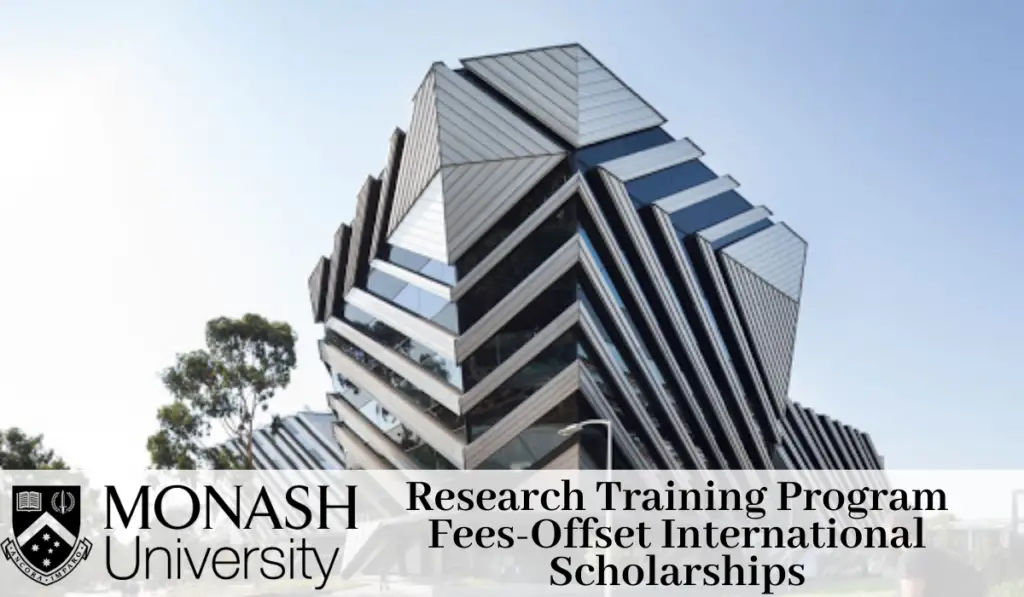 Monash University is an Australian public research university located in Melbourne. It was created in 1958 and is Victoria's second oldest university, named after a notable World War I general, Sir John Monash. The university has four campuses in Victoria (Clayton, Caulfield, Peninsula, and Parkville), as well as one in Malaysia.
Monash University also operates a research and teaching centre in Prato, Italy, as well as a graduate research school in Mumbai, India, and a graduate school in Suzhou, China. Monash University offers courses in a variety of locations, including South Africa.
Scholarship Summary
Level of Study: Masters / PhD
Institution(s): Monash University
Study in: Australia
Courses Offered: Arts, Biomedical Science, Design Education, Educational and Developmental Psychology and Philosophy, Engineering Science, Fine Art, Philosophy, Reproductive Sciences, Surgery
Program Period: Different according to your course.
Monash Research Training Program Deadlines
INTERNATIONAL (Round 1)
opens 1 September, closes 31 March
DOMESTIC (Round 2)
opens 1 November, closes 31 May
INTERNATIONAL (Round 3)
opens 1 April, closes 31 August
DOMESTIC (Round 4)
opens 1 June, closes 31 October
Scholarship Coverage
Monash Research Training Program provide the recipient with the following benefits:
Annual living allowance: $29,500.
Relocation allowance: $1,500.
Eligibility Criteria for Monash Research Training Program
To be eligible for Monash Research Training Program, candidates must fulfill following requirements:
Required Language: English. You must meet the Monash's English language proficiency requirements.
Eligible Countries: All world countries

An International student.
A New Zealand citizen.
An Australian citizen.
Australian permanent resident.
Australian humanitarian visa holder.

A bachelor's degree requiring at least four years of full-time study in a relevant field, and which normally includes a research component in the fourth year, leading to an honours 1 or 2A in a relevant field.
A course leading to a level rated by the relevant department, faculty and committee as equivalent to an honours 1 or 2A in a relevant field.
A master's degree that entails work, normally including a significant research component, including at least 25% of one full time equivalent year of work, including a thesis. It is normally expected that a grade of honours 2A has been obtained for the research thesis or project. Where ungraded, examiners' reports will be taken into account.
Have qualifications which in the opinion of GRC are deemed equivalent.
Scholarships are awarded based on an applicant's academic record, research output and prior research experience.
Have not previously held an Australian Government or Monash-funded Postgraduate Research Award for more than six months.
How to Apply for Monash Research Training Program?
Please follow the following application instructions to apply for Monash Research Training Program:
You need to receive an invitation to apply, before you apply. To receive one, you'll need to complete an expression of interest and/or find a supervisor who agrees to supervise your research. This depends on the faculty/institute.
Click here to registerfor Graduate Research Admission and Scholarship.
All sections of online application are explained here.
Indicate that you wish to be considered for a scholarship on the application form. There is no need to fill out a separate application form.
You do not need to specify which scholarship you are applying as you are automatically considered for all graduate research scholarships (where eligible).
Required Documents:
Academic curriculum vitae.
Official academic transcripts, degree certificate from awarding institution (including an explanation of the grading schema).
Proof of citizenship.
Proof of meeting the English language proficiency requirements.
Invitation to Apply.
Research proposal.
Apply Now
To apply and know more about Monash Research Training Program, please visit the Official Website.