If you can write an excellent essay and wish to compete in an international competition. The Queen's Commonwealth Essay Competition is presently open for you to demonstrate your skills.
This post will go over the details of the competition, the reward, and the application process step by step.
The Queen's Commonwealth Essay Competition, which began in 1883, is the world's oldest international writing competition for schools. It is a vital way to reward achievement, elevate youth voices, and develop key skills via creative writing, with thousands of young people participating each year.
The theme of the Competition for 2022 is Commonwealth Community. The global spread of COVID-19 has had an impact on the lives of many Commonwealth individuals. Despite this, cultures have come together in the face of adversity, and stories of progress, community, and optimism continue to emerge.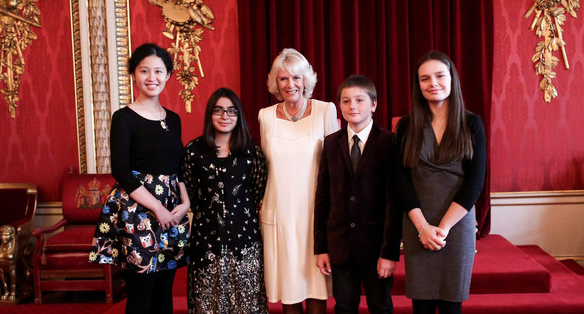 We strive to foster reading, expression, and creativity by rewarding excellence and inventiveness, as the Society has a long tradition of supporting the creative skills of young people across the Commonwealth. The Competition encourages all young Commonwealth citizens and residents, regardless of area, education, or background, to contribute their ideas, celebrate their stories, and have their voices heard. The Society is seeking to expand access to this opportunity for a wider range of young people through partnerships with Book Aid International, Worldreader, and the National Literacy Trust.
Scholarship Summary
Level of Study: Competition
Institution(s): The Royal Commonwealth Society (RCS)
Study in: UK
Deadline: June 30, 2022
Essay Topics
With the global spread of COVID-19, we've seen the lives of many Commonwealth citizens affected. However through adversity, societies came together and stories of growth, community and hope continue to emerge.
Senior Category (born between 1 July 2001 and 30 June 2008 (14-18 years of age))
Discuss the following: "The greatness of a community is most accurately measured by the compassionate actions of its members." – Coretta Scott King
Keeping connected through COVID-19
It's been 30 years since the end of the COVID-19 pandemic, what does the world look like
Imagine you are the Head of a Commonwealth nation heavily affected by COVID-19 and giving a national address at the end of the pandemic. What would you say to your community?
Junior Category (born on or after 1 July 2008 (under 14 years of age))
The year is 2050 and you've been asked to write about the coronavirus pandemic for a museum. What story would you tell?
Tell a story of how you, or someone you know, helped others during the pandemic.
'We will be with our friends again. We will be with our families again. We will meet again' – HM Queen Elizabeth II. After the pandemic, you are seeing a friend for the first time. What new hobbies would you share with them?
What did you miss most during the pandemic?
Scholarship Coverage/Prize
Queen's Commonwealth Essay Competition provides the recipient with the following benefits:
– All entrants receive a Certificate of Participation and one Winner and Runner-up from the Senior and Junior categories will win a trip to London for a week of educational and cultural events.
– Prizes have traditionally been awarded only to the first prize winners in the Senior and Junior categories and also vary year by year. This means they are not able to confirm what the prizes will be until after the winners are announced in August 2022. Past prizes have included:
Resources for winner's school
Certificates
Visits to Cambridge University
A trip to London and a week of activities
Having your entry featured in worldwide media
Work experience at international organisations, and
RCS regional and branch offices often hold ceremonies or offer prizes. Please contact your nearest RCS branch after the competition closes on June 30, 2022, to inquire about any activities planned.
Eligibility Criteria for Queen's Commonwealth Essay Competition
To participate in the Queen's Commonwealth Essay Competition, following is the criteria:
Required Language: All entries must be written in English.
Eligible Countries: Nationals and residents of all Commonwealth countries and territories aged 18 and under are eligible to enter the competition, including entrants from Zimbabwe.
Entries are accepted from residents of non-Commonwealth countries who submit through their local RCS branch.
Entrants can be presented in any form/method of creative writing. Pictures/Illustrations are particularly encouraged in the Junior Category.
How to Apply for Queen's Commonwealth Essay Competition?
Please follow the following important application instructions to participate in Queen's Commonwealth Essay Competition:
Online Submission:
The Royal Commonwealth Society is building a new online platform that will be much easier to use and accessible on all devices, but it's not quite ready yet.
They are encouraging young people to begin writing their pieces and will open the new platform for submissions in early 2019.
Please note: They do not accept essays sent by email.
Offline Submission (Post):
Offline submissions are very difficult to process and can mean that your entry arrives after the Competition closing date. They will only accept an offline entry where the person submitting has no access to internet and is unable to submit online.
If you are submitting your entry by post, please complete an entry form (Can be found in the official website) in block capitals and attach it to the front of your essay. Entries should be sent to your nearest postal hub, details of which are listed below.
Please note that for postal entries, your essay must be received by June 30, 2022 in order to be eligible. They, therefore, suggest that you send your essay with plenty of time for delivery, as essays received by a postal hub after June 30 will not be considered in the competition.
Check the official website for posting address.
Apply Now
To know more about Queen's Commonwealth Essay Competition 2022, please visit Official Website.