Continue your studies in the United States. There's good news! The Gates Scholarship application period is currently open.
We will go through the details of The Gates scholarship, its perks, and the application process step by step in this article. The Gates Scholarship 2022-2023 is an undergraduate scholarship for American students that is completely funded. Tuition, fees, lodging & board, books, and transportation are all covered by The Gates scholarship.
Latest Scholarships:
The Gates Scholarship (TGS) is a highly competitive, last-dollar scholarship for exceptional minority high school seniors from low-income families. The scholarship is awarded to 300 of these student leaders each year with the goal of assisting them in reaching their full potential.
Scholars will receive funding for the full cost of attendance that is not covered by other financial aid, as well as the expected family contribution, as assessed by the Free Application for Federal Student Aid (FAFSA) or the institution or university's methodology.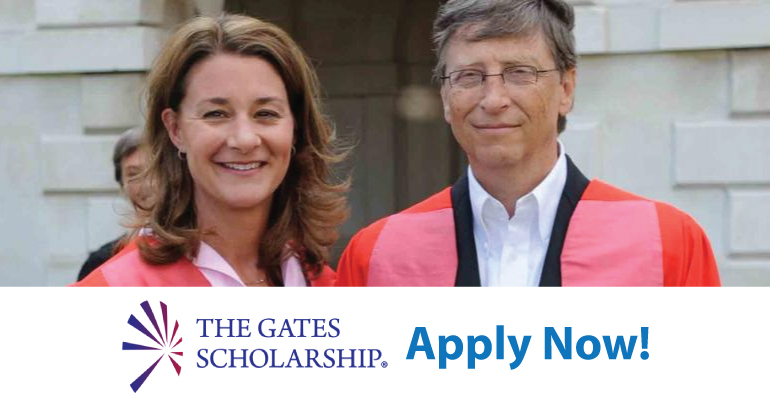 Gates scholarships (TGS) are one of 20,000 private scholarships awarded in the United States each year. To take advantage of this fantastic opportunity, all of the best candidates with outstanding academic achievements, community service experience, and leadership characteristics will be prioritised.
The Gates scholarship scheme was started by Bill Gates and his wife with the goal of eradicating illiteracy among young people. Every year, the Gates scholarship is awarded to more than 300 students from low-income families who want to receive an education and live a better life.
One of the top fully-funded undergraduate scholarships, Gates scholarships are renewable for five years. Financial aid for books, tuition, transportation, lodging, and other expenses will be available to undergraduate scholars.
The Gates Cambridge Scholarships were established in 2000 by the Bill and Melinda Gates Foundation with a $210 million donation to support outstanding graduate students studying at the University of Cambridge. The scholarship is one of the most competitive and prestigious in the world, with recent years seeing around 1.3 percent of applicants receive an award.
The gift is the largest single donation to a British university and supports the University's most prestigious postgraduate programme. Each scholarship includes funding for academic and professional development as well as the cost of a postgraduate degree at the University of Cambridge. More than 1,800 students from over 110 countries have received the scholarship, and more than 200 Gates Cambridge Scholars are currently enrolled.
The Gates Scholarship Summary
Level of Study: Undergraduate
Institution(s): American Colleges
Study in: USA
Deadline: September 15, 2022
The Gates Scholarship Coverage
The Gates Scholarship Program provides the recipient with:
Tuition fee waiver
Room or accommodation expenses
Board expenses
Textbook expenses
Transportation expenses would be covered.
Eligibility Criteria for The Gates Scholarship Program
To qualify for The Gates Scholarship, candidate must fulfill all of the following requirements below:
Required Language: English
Eligible Countries: USA
A high school senior
From at least one of the following ethnicities: African-American, American Indian/Alaska Native*, Asian & Pacific Islander American, and/or Hispanic American
Pell-eligible
A US citizen, national, or permanent resident
In good academic standing with a minimum cumulative weighted GPA of 3.3 on a 4.0 scale (or equivalent)
Additionally, a student must plan to enroll full-time, in a four-year degree program, at a US accredited, not-for-profit, private or public college or university.
Note: *For American Indian/Alaska Native, proof of tribal enrollment will be required.
An ideal candidate will have:

An outstanding academic record in high school (in the top 10% of his/her graduating class)
Demonstrated leadership ability (e.g., as shown through participation in community service, extracurricular, or other activities)Exceptional personal success skills (e.g., emotional maturity, motivation, perseverance, etc.)
How to Apply for The Gates Scholarship?
Please follow the following instructions to apply for The Gates Scholarship:
A candidate is supposed to gather the following information :

SAT or ACT scores
Academic transcripts
Cumulative GPA
Financial information about the candidate's family
Extracurricular information
Letter of Recommendation
After gathering the information, the applicant is supposed to sign up for the TGS profile and start the Gates scholarship application process and submit the application with accurate information.
Apply Now
To know more about The Gates Scholarship Program, please visit Official Website.