Start your college career in the UK. The news is good! The University of Edinburgh is currently accepting applications for its Global Online Learning Masters Scholarships. In this post, we will discuss in depth the University of Edinburgh Global Online Learning Masters scholarship program, including its requirements, benefits, and application process.
The Edinburgh Global Online Learning Masters Scholarships 2023 are available to students from all over the world. Scholarships for the Master's degree in Global Online Learning at the University will cover the full cost of tuition for the full term of the program.
A normal online master's degree program lasts three years. The average work week is about 10–15 hours long, with extra time put in around due dates. Online programs are comparable to on-campus ones in terms of entry requirements and overall effort. The delivery method is the only distinguishing feature.
The University of Edinburgh is consistently ranked as one of the world's best institutions of higher education. They provide an inspiring environment for work, study, and instruction, in addition to world-class resources, and so attract the brightest minds from all over the world, including Nobel laureates and the explorers, pioneers, and inventors of tomorrow.
Also Check: ISS Scholarship Fund 2023 Netherlands
According to the Research Excellence Framework, which is used by the UK government to provide future research money, Edinburgh is the fourth-most-powerful academic institution in the country. The UK's top-ranked degree program in CS/IT is also the country's best.
Interesting Facts About The University of Edinburgh
The University of Edinburgh is a Scottish public research university based in Edinburgh. It is one of Scotland's four ancient universities, and the sixth-oldest University in continuous operation in the English-speaking world, having been granted a royal charter by King James VI in 1582 and officially inaugurated in 1583. The University was instrumental in Edinburgh's city as a major intellectual center during the Scottish Enlightenment, earning it the moniker "Athens of the North."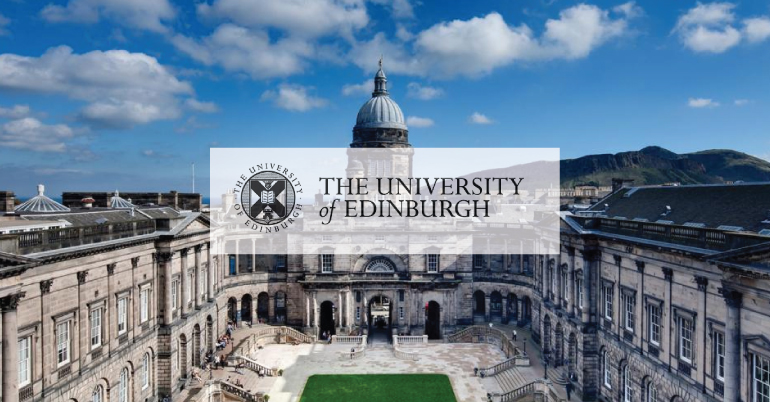 The University of Edinburgh is a member of the Coimbra Group, League of European Research Universities, Russell Group, Una Europa, and Universitas 21, among other research-intensive university alliances. With the third-largest endowment in the UK, behind only Cambridge and Oxford, it had total income of £1,175.6 million in the fiscal year ended 31 July 2022, of which £324.0 million came from research grants and contracts. In the city of Edinburgh, the university comprises five main campuses, which include many historical and architecturally significant buildings, such as those in the Old Town.
Edinburgh receives over 60,000 undergraduate applications each year, making it the UK's second-most popular university by application volume. With 35,375 students in 2019/20, it is the eighth-largest university in the UK by enrollment. Edinburgh has the fifth highest average UCAS scores for new students among British universities in 2019. The University has maintained ties to the British royal family, with Prince Philip, Duke of Edinburgh, serving as chancellor from 1953 to 2010 and Anne, Princess Royal, serving as chancellor since March 2011.
Also Check: MEL Scholarship Trust Fund 2023 Netherlands
Some of the most important figures in modern history are among the university's alumni. Writers such as Sir J. M. Barrie, Sir Arthur Conan Doyle, Sir Walter Scott, and Robert Louis Stevenson studied at Edinburgh, as did inventor Alexander Graham Bell, naturalist Charles Darwin, philosopher David Hume, and physicist James Clerk Maxwell.
Several heads of state and government have graduated from the university, including three British Prime Ministers. Edinburgh educated three Supreme Court Justices of the United Kingdom, as well as several Olympic gold medalists. As of October 2021, 19 Nobel Laureates, three Turing Award winners, two Pulitzer Prize winners, and an Abel Prize laureate and Fields Medalist were alumni or academic employees at Edinburgh.
Scholarship Highlights
Level of Study: Masters
Institution: University of Edinburgh
Study in: UK
Courses Offered: Any distance learning Master's program offered by the University
Program Period: Three years
Deadline: June 05, 2023
Also Check: University of Canberra Scholarships 2023 Australia
Scholarship Benefits
The Edinburgh Global Online Learning Masters Scholarships will provide the recipient with the following benefits:
Edinburgh Global Online Learning Masters Scholarship will cover the full tuition fees and will be tenable for three years.
Eligibility
To be eligible for Edinburgh Global Online Learning Masters Scholarships, applicants must meet the following criteria:
Required Language: English
Eligible Countries: Angola, Bangladesh, Afghanistan, Benin, Cambodia, Central African Republic, Chad, Bhutan, Burkina Faso, Burundi, Comoros, Democratic Republic of Congo, Ethiopia, The Gambia, Guinea, Guinea-Bissau, Haiti, Kenya, Djibouti, Equatorial Guinea, Eritrea, Kiribati, Democratic Republic of Korea, Lao PDR, Lesotho, Liberia, Madagascar, Nepal, Niger, Rwanda, São Tomé and Principe, Senegal, Malawi, Mali, Mauritania, Mozambique, Myanmar, Sierra Leone, Solomon Islands, Somalia, Tajikistan, Tanzania, Timor-Leste, Togo, Tuvalu, Uganda, Vanuatu, South Sudan, Sudan, Syrian Arab Republic, Republic of Yemen, Zambia, Zimbabwe
Must be both nationals of the eligible countries;
Must have or expect to obtain an honors degree at undergraduate level or the international equivalent.
Must have a computer with internet access.
Also Check: Monash University Scholarship 2023 Australia (Fully Funded)
How to Apply?
Please follow the following application instructions to apply for this scholarship:
Fill the application from here. The online scholarship application form is located in EUCLID and can be accessed via MyEd our web based information portal at https://www.myed.ed.ac.uk
Please note that you will not be able to access the online application form unless you have applied for admission to the university of Edinburgh and have full authentication
When logging in to MyEd, you will need your University User Name and password. If you require assistance, please go to http://www.ed.ac.uk/student-systems/support-guidance.